Stagecoach Meadows Grand County, Colorado - Grand County Road 5, also known as the 4 Bar 4 Road, leads today's mountain enthusiast into Colorado's historic Old West Ranching and Stagecoach past at Stagecoach Meadows.  Born out of a 320 acre Dick McQueary family homestead in the mid-to-late 1800s, the ranch, known as the "Four-Bar-Four" (the owner's cattle brand), became a stage-stop for the mail and weary travelers. Nestled between Pole Creek and Crooked Creek among the beautiful meadows and tall pines, the ranch's two-story log structure and barn provided a welcome rest and horse-change.  Having traveled from Denver through Berthoud Pass, the Divide stood majestically ahead toward Devil's Thumb and the trail to Salt Lake City.  Used initially as a stage-stop and hotel, the main building was later used as the county's first car dealership.  Accented by more than 13,000 lineal feet of buck-n-rail fencing with beautiful homes hidden among the trees, these buildings and the preserved wildlife corridors in the meadows still stand as reminders of Stagecoach Meadows' rich past. Stagecoach Meadows is one of Grand Counties Premier Subdivisions off the beaten path that features 2.5 to 5 Acre Lots, spectacular views, a quiet setting and the feeling of mountain ranch living.
Only 67 miles from Denver, Grand County is the ideal place for western adventure and natural beauty. After driving through Fraser, CO take the first left on CR 5 (4 Bar 4 Road) near the soccer fields.  Continue straight on County Road 5 - 3.2 Miles then left on County Road CR 5171 (Stagecoach Drive).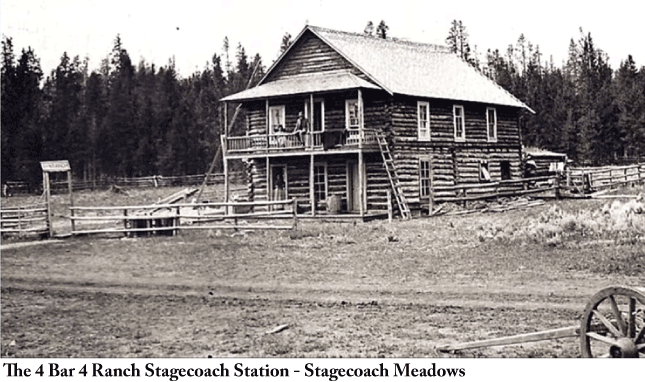 Save the 4 bar 4 - CLICK HERE!